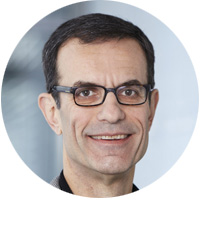 So I sat down and I wanted to give you three or four examples of technologies where could be of the transformative type, where heat transfer could play a role. Now, it's a very important thing I believe to realize that heat transfer cannot be important, is not important in everything. We like it very much, all of us, but it's not that the center of development necessarily all the time, but it is equally important to realize that where it is important, we must identify, we must take advantage of all the opportunities. I will give you an example of storage. Renewables are intermittent by a large; therefore, storage is a very important aspect of them. I see heat transfer and that's my personal opinion and I have not done any in-depth study or statistics on this as medium to low. Then we have the design and production of new fuels – chemical energy carriers that could be synthesized with various way, there I see heat transfer is as a very important part of many processes. There heat transfer could play a central role in development in these technologies.
Then we will say we would go to solid-state devices. The two examples I have here sunlight and electricity, that means photovoltaic and thermoelectric. If you look into the pie charts of energy today, the part occupied by these technologies is small. If you look into research and excitement that's very high, but this is an area where heat transfer in addition to basic sciences, let's not forget that, play an important role - medium to high – I said it. Then, of course, there is the issue of the network and distribution of electrical energy and all the problems that go with that, not only electrical energy, but all kinds of energy consuming devices where I see the heat transfer relevance is low. Effectively, the heat transfer community I would not focus all of my activities there. There I would accept an axillary role.
I think it would be a good idea to identify in the landscape that I described before technological domains ourselves. We can define those ourselves where heat transfer could play a leading role and claim that role that is not being done to the best of my knowledge. There are areas where heat transfer science could be at the forefront but currently they are perhaps there, but not in the leading role.